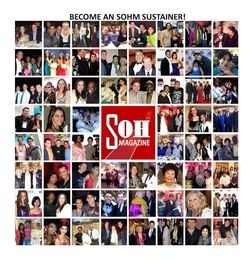 Shine On Hollywood Magazine exceeds 17 million global clicks, and asks for pay-it-forward contributions for its formerly free digital publication, to succeed in spreading positive messages from Hollywood to the globe.
August 12, 2014-Hollywood, CA- Shine On Hollywood Magazine (SOHM) shares stories of triumph and success in the entertainment industry, and after releasing two years of free digital issues, the founder and publisher Arnold Garcia is asking for contributions. When asked why, Garcia has several reasons. On it's two-year anniversary, SOHM has grown globally. Europe, Asia and Latin America have according to views, become addicted to SOHM. There are over 130,000 likes on Facebook, and when Hollywood magazine is searched for on the Internet, SOHM is in the top three hits. To further this momentum funds are now vital to the company.
There are also future plans. There will be an interactive webcast with celebrities, the discovery of global talent, translation into different languages, and interviews with high-end celebrities. All plans need funding. Money is needed to give hope to the undiscovered, to allow celebrities to share their experience to the audience, and to tell the public that Hollywood is not about negativity, he says. Sharing to Garcia means giving and receiving talent between each party. He says that it is what the real Hollywood should be about.
To Garcia, sharing also means putting out endless hours to create a spark not often seen in Hollywood magazines, the human touch, the passion that commonality exists, and that any individual can thrive and succeed in life. Garcia wants to always show how talent can give back to the community through experience, teaching, and sharing stories of achievement. He passionately believes that for the public to share by contribution is to also feel that human touch.
Quick Facts
Showcased on NASDAQ building in Time's Square, honored by artist Cao Yong
2014 Jeffrey Foundation Award for Community Leadership
Recognition through the U.S. Global Business Forum.
SOHM utilizes college students from The Music Institute and Berkeley Music Institute to further their industry careers and education
Legendary celebrities, as well as new talent, are encouraged to give raw and honest Q&A
Many jobs have been created, with future plans to hire globally
Commended by Aida Takla-O'Reilly


Quotes

"Instead of taking the easy road, you [Garcia] took the road less traveled and demonstrated how magnificently real people rise and shine. You set the standard for what journalism is all about."~Aida Takla-O'Reilly, Two-time President and Current Trustee of The Hollywood Foreign Press
"You are inspiring the future leaders of this world to shine on brighter and brighter every day. Here's to your continued success and bright future." ~Cao Yong, Legendary World-renowned Artist
"SOHM has improved the world views of the industry in every area imaginable. Exciting ways to share stories of success, with new approaches to social media. The ability to give a voice to the unheard. It's not just about entertainment, it's a positive way to embrace life." ~Arnold Garcia, Founder / Publisher of Shine On Hollywood Magazine
Related Products
Backgrounder:
http://shineonhollywoodmagazine.com/shinejulyaugust2014/web/flipviewerxpress.html
Donation:
https://www.paypal.com/cgi-bin/webscr?cmd=_s-xclick&hosted_button_id=XJ6V93USFUY3A
Associated Links
http://shineonhollywoodmagazine.com/shinejuly2013/web/flipviewerxpress.html
http://shineonhollywoodmagazine.com/shinejulyaugust2014/web/flipviewerxpress.html?pn=16
http://shineonhollywoodmagazine.com/shinejulyaugust2014/web/flipviewerxpress.html?pn=22
https://www.youtube.com/v/bHteBWaUTvU
https://www.youtube.com/v/MBl5xL9VHbw
Contact
Alex Antonino
323-426-9472
alex@shineonhollywoodmagazine.com
www.shineonhollywoodmagazine.com