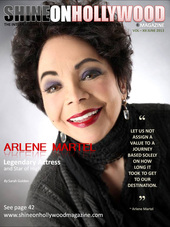 I'm saddened at the passing of a wonderful beautiful friend legendary actress
Arlene Martel
.
Undoubtedly had a profound impact on Hollywood for many years. Arlene Martel, who Star Trek T'Pring was married to Spock's Vulcan, died on Tuesday, August 12, 2014. She was 78. She suffered a heart attack.
In addition to Star Trek, Martel is also known for appearances on Twilight Zones, Hogan's Heroes, Bewitched, The Wild, Wild West, Battlestar Galactica (1978) and Gunsmoke, to name a few.
She was featured on Shine On Hollywood Magazine, last year on June 2013 "Top Entertainment Industry Professionals"
http://shineonhollywoodmagazine.com/shinejune2013/web/flipviewerxpress.html?pn=42
She inspired us all with her spirit and great movies that will live forever. You will be missed my love. R.I.P.
~Arnold Garcia, Fonder and Publisher of Shine On Hollywood Magazine