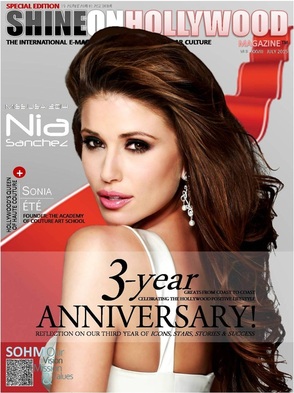 August 8, 2015 - HOLLYWOOD -- Since its launch in July 2012, Shine On Hollywood magazine (SOHM) has built a circulation of nearly 27 million hits in 60+ countries worldwide, placing the publication in the major leagues among culinary digital magazines. Each issue highlights celebrities and industry professionals in arts and pop culture. The magazine also features articles on entertaining and in-depth pieces on remarkable heartfelt stories. SOHM fulfills a niche that other Hollywood magazines do not provide. Tabloid journalism and shocking revelations of infidelity or other personal indiscretions, will never be mentioned in this publication. The professional scope, the experiences and advice of those featured by hard work and discipline, offers the best reflection of a Hollywood that can shape opinion to lift the human condition. SOHM is the only publication that has the capacity to change the pejorative aspects of an industry that requires introspection.

We are dedicated to providing a positive, meaningful and educational experience and to inspire our readers with knowledge and information from creative, qualified industry professionals.

The issue features former Miss USA Nia Sanchez who continues to do volunteer work in the same homeless shelter where she lived as a small child and Hollywood's Queen of Haute Couture, Sonia Eté whose extraordinary professional career has included dressing the likes of Jennifer Stallone, Candy Spelling, Tracy Danza, Jennifer Lopez, Paris Hilton and Coolio among others.

We have featured 24 industry professionals in the past year and have done our best to showcase celebrities you will easily recognize along with lesser known, yet equally successful entertainment personalities. They are all doing their best work and giving back to their communities.

"I am excited about beginning our fourth year and all that is in store for our readers! We bring real people real stories from Hollywood with positive outlooks from around the world." Mentions SOHM and A&G Entertainment Founder, Arnold Garcia

A reoccurring theme in our stories is the will by those portrayed in the magazine to overcome all obstacles in order to reach their goal. The hardships and the triumphs of those in the spotlight are real, and these events offer inspiration of similar journeys we've encountered in our daily lives. As long as we have the capabilities to continue our passion, SOHM will continue its mission to explore all facets of those that contribute to the entertainment industry. ~ Jesse Dorado, Vice President of Shine On Hollywood Magazine and A&G Entertainment Productions

Aida Takla-O'Reilly, Former two-time President and current Trustee of the Hollywood Foreign Press / Golden Globe Awards , said, "I just want to express my appreciation and admiration for the creation of "Shine On Hollywood Magazine." Your mission is clear…you want to feature the accomplishments of people of valor. You have proven to the rest of the world that you can succeed without delving into gossip or nurturing the ugly. You have taken the high road. As a person I congratulate you and as a journalist I thank-you for giving journalists the honor they deserve and for trusting the intelligence and high moral value of your readers. Rise and "Shine-on the World"

About Shine On Hollywood Magazine:
Shine On Hollywood Magazine was founded in July 2012, and is considered one of the top entertainment, popular culture and lifestyle magazines in Hollywood that covers national and world entertainment. SOHM directly engages readers and high-rollers with sharp writing, eye-catching design and sophisticated custom photography. Each issue includes revealing interviews and features on Hollywood entertainment, celebrities, industry professionals and the ones behind the scenes.

###

CONTACT: Alex Antonino
Tell: 323-774-6977
Email: alex@shineonhollywoodmagazine.com

For more information visit Shine On Hollywood Magazine at ww.shineonhollywoodmagazine.com.