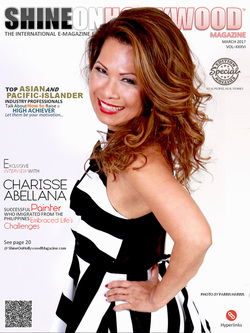 Welcome to the March 2017 issue of Shine on Hollywood Magazine! As we say goodbye to the frosty winter season and welcome the boundless beauty of spring, we bring to you with great satisfaction our special edition of Top Asian Industry Professionals issue! There's never shortage of talent in this town as we immerse you in the world of celebrity fashion design, and bring you up close to some of the hardest working designers in the industry, whose allure go beyond the camera flashes.
This issue we feature a talented painter from the Philippines,
Charisse's roots taught her the closeness and value of family and extended families, while her life in America taught her the strength of the individual, and the prospect that comes with freedom of expression as an artist. Using oils, watercolor, charcoal, ink on paper and mixed media in work, she uses the
thick, bold strokes a
palette knife provides
to convey her emotions in the compositions unique to her work. Charisse's paintings have been auctioned, using the profits to help the underprivileged.


We encourage you to "Let Them be Your Motivation!"
More on Charisse Abellana, please click image or here.


SOHM remains a politics and gossip free publication with its focus on "Real People, Real Stories" from the arts and pop culture community who make a difference by giving back, and we are delighted to share their heartfelt stories with you. We will continue to provide the industry's foremost creative meeting place with monthly showcases, news, opinions, analysis, and audience feedback. Next issue SOHM will feature the world of
Top Men Industry Professionals.
We hope you enjoy this issue and look forward to your feedback and continued support!
The SOHM Team