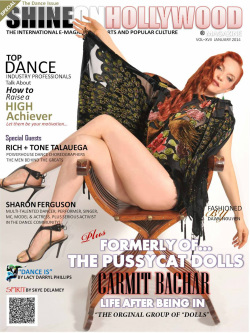 SOHM PRESS RELEASE

Hollywood, CA - The January 2014 issue of Shine on Hollywood Magazine (SOHM) brings inspiration and creative movement from four top dance professionals. This month's cover story features the SINGER, DANCER, ACTRESS, "FORMERLY KNOWN AS"…ONE OF THE ORIGINAL PUSSYCAT DOLLS, CARMIT BACHAR, now a solo artist in her own right. Growing up right up here in beautiful Los Angeles, California with the mansions in the Hollywood Hills full of movie stars and the setting sun on Malibu beach drawing visitors from all over the globe, she rose up the ranks in the dancing world and has now spread her talents to many other areas.

This issue also features JAMAICAN TRANSPLANT, SHARON FERGUSON, who has turned a perceived liability of looking different into an asset and has built a successful career in dance and entertainment. Her story will inspire you.

Finally, we feature THE DYNAMIC BROTHERLY DANCING DUO OF RICH AND TONE TALAUEGA. These two, virtually picked from obscurity, started big, right out of the gate, dancing with super-star, Michael Jackson. See where their careers have led them since.

SOHM has been ranked #1 by Google as the "most viewed' free Hollywood magazine designation.